Why do I get a message after my iPhone 11 Series Screen is Replaced ?
---
Background
Apple doesn't sell parts to 3rd parties unlike other many other manufacturers.  In order to get an original OEM (original Apple equipment), it has to be done by Apple themselves, an Apple Authorized dealer or it has to be refurbished (used).  Here are your choices.  The issue with the message appearing is applicable only the iPhone 11 and up devices.
---
Option 1 – Have it fixed by Apple
Apple will do repairs if you are on AppleCare.  If you are not they will charge for any work and it is bound to be costly.  Click here to book
---
Option 2 – Have it fixed by a 3rd party repair shop using OEM refurbished screen
Third party shops will be far cheaper but they in general cannot access new OEM screens as they are not sold.  Therefore they would have to access a used refurbished screen which is not easily available and tend to be expensive.
---
Option 3 – Have it fixed by a 3rd party repair shop using a new 3rd party screen
These screens are made in China and vary in quality (most are very good).  However the cost of this type of repair offers the best value and most consumers will never see any difference between these 3rd party screens and an OEM one.
The only thing to note is that upon a repair you will get a nag message – "If you need to replace your iPhone display, it's important for certified technicians who use genuine Apple display parts to repair it," the page reads. "Replacements not performed by Apple, authorized service providers, or certified technicians might not follow proper safety and repair procedures and could result in improper function or issues with display quality or safety."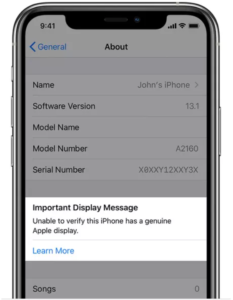 This notification will appear on the affected iPhone's lock screen for 4 days after a problem is first detected, then it'll move to the main settings menu for 15 more days. After all that, it gets pushed away to Settings -> General -> About.
Apple does this in order to generate more service revenue and discourage third party repairs.  The actual repair is actually very straightforward, contrary to what Apple tries to represent. All screens we sell are warrantied for 90 days.
See more here:
---
Notes and References
iPhone 11 Pro and Pro Max come originally with an OLED screen.  3rd party repair shops will give you the option to use either LCD or OLED with the LCD being far cheaper.  The quality of OLED is far higher but for most users it's not noticeable.
Battery replacement may also trigger a similar message.
---
Choose your Phone to Purchase or Trade Up to
If you want to trade up or buy a new one, we sell only gently used phones that come with a standard 30 day warranty that is extendable to 3 years.  Unlike private sellers, all devices we sell are guaranteed to work on the carrier you want and are unlocked.
---
What we do prior to Delivery
We understand you don't have unlimited time to check your phone.  This is why we offer a 30 day warranty on the device.  We check each phone prior to shipping:
We check the LCD, body and exterior to ensure it is in the condition that is claimed in the listing.
Do a battery health check. For an iPhone you can check here for iOS 11.3 and up.  Battery replacement is inevitable with any phone as they have a limited lifespan.
Perform a Diagnostic to make sure it is functional.  For Android you can use an App like these to check for issues.  If you have a Samsung you can use a special code to access the diagnostic.  For iPhones you can check here.  We perform this diagnostic prior to shipping and communicate transparently the condition.
---
Why buy from Galaxy CPR?
Naturally we encourage buyers to purchase from us because:
We are a Physical Shop where you  know we are not going to disappear overnite.
GalaxyCPR only sells gently used phones from tier 1 wholesalers who check devices properly.  Any defects that we know of are disclosed transparently to the buyer.  Most used phones are not perfect (may have blemishes etc.) but they offer great value, often at up to 75% less than MSRP.
Guaranteed to Work!
GalaxyCPR will ensure your carrier works on your phone or we will refund you in full with no restocking fee.  No more worries about carrier, IMEI and iCloud/Google locks!
Device come with Warranty!
GalaxyCPR is a licensed Las Vegas business that has 5 star Google Reviews.  All devices are warrantied for 30 days and can be extended to up to 3 years.  Although all sales of gently used devices are final we provide exchanges within 30 days.
Able to Perform Servicing
We have phone repair facilities and can do maintenance on any phone.
Contact GalaxyCPR.com  by text or phone for assistance in purchasing a warrantied gently used device today.  You may visit our store or purchase via our online store at CellDiscount.Store .  If you require a repair visit our online price estimator for repairs